Why bed & breakfast rather than a resort?
Choosing a bed and breakfast over a resort is a great way to personalise your stay, get to know the locals and find a warm, unique room for a better price than a major hotel chain or resort.
If this sounds like you below, then you are in the right place;
You prefer smaller, more intimate accommodations than a large hotel
You appreciate rooms that are individually decorated, especially with real artwork and local furniture
You enjoy getting to know your hosts personally
You enjoy personally prepared meals made just for you with care and attention
You like staying in private hard to find locations that only locals know about
You're looking for adults-only accommodations and enjoy your well earned privacy
You enjoy the experience of a "home away from home" — including quirky touches like the hosts little puppy curled up in a corner somewhere, and your host wearing board shorts or a sarong (we are on the beach!)
You like having the personal attention and local knowledge of your hosts at your disposal
You appreciate great pricing where your tariff is not supporting a whole bunch of infrastructure and administration that has no bearing on your stay
The New Bed & Breakfast
Bed & Breakfasts have come a long way from the old room under the house shared with a bunch of people that you don't know. Shoran and I have taken great care to ensure that our guests can experience a tropical island stay in comfort and privacy.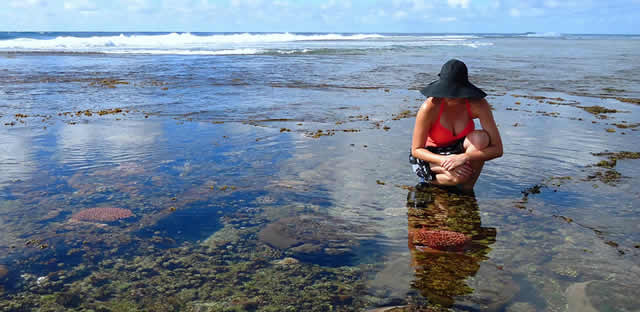 A base to explore from
There is nothing like the convenience of having a 'home away from home' base to explore from. After a great nights sleep you can have a personally prepared breakfast to your bungalow and then get some local advice where to explore for the day! Why pay resort tariffs when you are heading out to explore the island? Your hosts can prepare a picnic for you to take for the day, and also have dinner ready for when you return from your day's expedition. There nothing like sharing those pics from the day with someone who is actually interested, over a cool drink on your return.
Bed & Breakfast is Value for money
The luxury of a modern bed & breakfast doesn't mean paying more. In fact it is quite the opposite. The savings aren't just in the advertised rate either, when you compare B&B vs hotel. You already know about the free breakfast. But what you might not realise is just how many other things you'll get at a B&B for free. For example bottled water, wifi, parking, local advice, home cooked meals at reasonable prices — even the occasional free happy hour with wine and cheese. Hotels will charge you for a lot of these services, meaning you'll end up paying a lot more than that advertised rate in the end.
How is it that you can get so much more at a Bed & Breakfast
The answer is simple:  our Bed & Breakfast is personally operated by your hosts whose goal is to offer you the best possible experience. You're not just another room number.  You're a true guest, and you'll never feel more welcome than at our bed & breakfast