Spain comes to the South Pacific ...
Who would have thought you could enjoy paella here in the islands of the South Pacific?
Our paella is one of the most requested dishes at our Long Lunches. The scent of saffron, bay leaves and beautiful lobster stock floats around the villa. 
Many of our guests take a cooking class with Marcus in the afternoon and then that's dinner done! If we have lobster from our reef then it finds its way into the paella also.
The hero ingredients usually depend on what's available here at the time. It may be farmed prawns from Teouma, octopus from Efate, or beautiful poulet fish which is a speciality of Vanuatu. For vegetarians imagine tofu marinated in garlic and smokey paprika with brown rice and black beans!
Stoney makes her fabulous sangria. Perfect with paella on a tropical island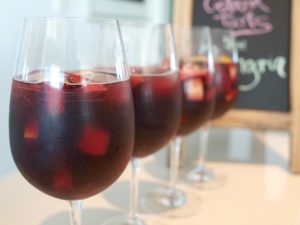 This will be a memorable meal for sure…