Magnificent Pineapples!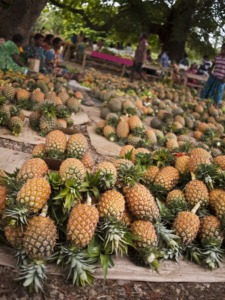 Sweet Sweet pineapples!
The pineapples grown in Vanuatu are like nowhere else. We have tried them from Queensland in Australia and Doles Plantations in Hawaii and they don't compare. At one point doles supplied almost 80% of the worlds pineapples … but we could not believe how sweet and juicy they are in Vanuatu.
Every market has these fabulous pineapples for sale. You can buy them from roadside stalls also. In Port Vila you will see locals on roundabouts with big plastic tubs of sliced pineapple. you can pick from sweet to extra sweet!
We decided to plant some in  the orchard at Papaya Villa. This year we trialed with 15 plants in the ground. They have been going well and we expect our first crop by December 2017. If they go well then we will add a further 15 plants. The good news is that these will be served up at villa … breakfast !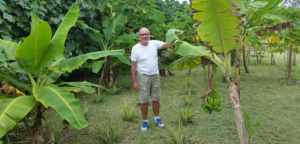 Marcus has a fantastic pineapple salsa that he serves up with fish tacos … using local poulet fish of course… Check out our first planting … amongst the bananas and passion fruits… sounds like fruit salad!