Lobster Paella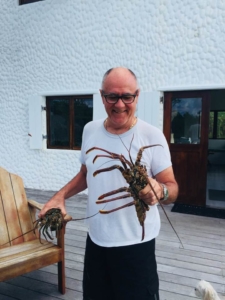 These beautiful lobster tails are from our own reef. Traditional method paella with loads of saffron and bay leaves with fresh lobster tails.
I make these as a treat for guests staying with us. Some of our guests like to hang about the kitchen in the afternoon while I prepare dinner, so I put on some of my favorite mambo tunes, pour a glass of red and cook away…
Tomatoes from our housekeepers garden… Anniese brings in all sorts of surprises depending on what is ready to harvest.
But when the boys bring in some live lobsters from our reef, then it's lobster paella time!