Lobsters from our reef …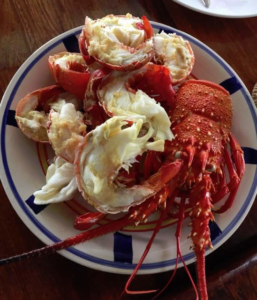 You can't beat fresh lobsters!
The Vanuatu islands are well known for their abundance of lobsters. We are located on 1.6 kilometers of pristine coastline, which provides us with amazing access to lobsters. Whilst they are not always around, we do frequently catch them. Of course they do find their way onto the table at Papaya Villa. These ones to the left are from our own reef.
I have two favorite ways of preparing them.
Grilled over coals with lashings of butter and maybe even a little garlic (in case there are vampires around!) you never know so it is best to be prepared…
The other is in a butter and saffron sauce served with freshly made and hand cut pappardelle pasta… I like to season this with a little fresh sage when I can get it also..
I generally have some lobster legs in the fridge to crack in the afternoon with a nice glass of French Champagne or maybe an icy cold beer. Either way it is a gift from the gods!
We dispatch them as humanely as possible. A short sleep in the freezer generally does it.  You just can't beat the fresh lobster in Vanuatu.